Insights | Rural
Vacant and derelict land in Scotland
17 February 2022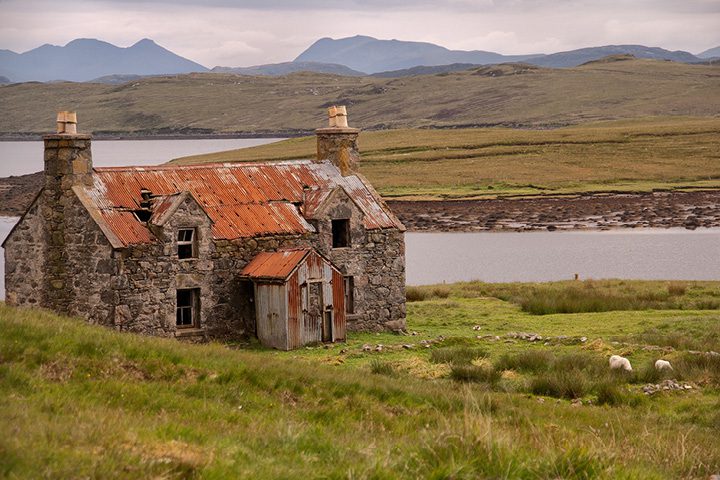 It is estimated that there is almost 11,000 hectares of vacant and derelict land within urban communities in Scotland. These sites comprise unused land, as well as land and buildings that have fallen into disrepair and require remediation before any further development or regeneration can take place. These sites are mostly found in the most disadvantaged areas of Scotland where statistics show that approximately three in every five people live within 500 metres of a vacant or derelict site. But the problem is not just restricted to Scotland's most populated areas. Examples of vacant and derelict land can also be found in the countryside where derelict buildings comprising mansion houses, barns, cottages and farmhouses have stood empty and neglected for many years.
Where can I find out more about vacant and derelict land?
The main source of information about vacant and derelict land is the National Vacant and Derelict Land Register. This is a centrally held register administered by the Scottish Government to which all local authorities submit data on an annual basis. However, as local authorities are currently only required to register land that is greater than 0.1 hectares, it is unlikely the Register provides a wholly accurate picture of the extent of the problem.
Will this land be used in the future?
Many vacant and derelict land sites have lain unloved and neglected for several years. In 2018 the Scottish Land Commission and Scottish Environment Protection Agency (SEPA) established the Scottish Vacant and Derelict Land Taskforce bringing together public bodies, businesses and third sector organisations specifically to look at ways to change how Scotland deals with vacant and derelict land. The aim was to find ways to bring these underused sites back in to productive use and to break the cycle of land falling in to dereliction. The Taskforce published its recommendations in October 2020. Increased funding to local authorities and communities, new systems of taxation and reform of the planning system and National Vacant and Derelict Land Register are all considered necessary to address the problem.
How can we stop more land becoming vacant or derelict?
More fundamentally, there is a consensus that in order to stop the number of sites falling into dereliction or continuing to lie unused for many years, there needs to be a change in mind-set among public and private landowners to acknowledge that it is no longer acceptable to permit land and/or buildings to become derelict or be left vacant indefinitely.
The Taskforce reported that when land or buildings were left vacant for long periods of time and not used for any productive purpose they were unlikely to be serving the public interest and more likely to be having an adverse impact on local communities. Empty homes, abandoned shopping centres, gap sites and derelict/abandoned buildings all fall in to the category of sites most likely to have an adverse impact on local communities. To make it easier for local authorities to acquire these sites so that they can be brought back in to productive use the Taskforce recommends that local authorities be given the power to trigger a Compulsory Sales Order (CSO) which requires such sites to be sold by public auction or unconditional tender to the highest bidder.
While there is no sign of this recommendation being adopted by the Scottish Government any time soon, in December 2020 the Scottish Government did announce the Vacant and Derelict Land Investment Programme a new £50 million fund available over five years to five local authorities following on from the recommendations made by the Taskforce. The funding will be used to reuse vacant and derelict land in ways that help tackle climate change such as to provide low carbon affordable housing, woodland and other green spaces, low carbon commercial businesses, flood prevention measures and community renewable projects.
The recommendations of the Taskforce tie in with ongoing areas of land reform intended to make land ownership in Scotland more transparent and information regarding land more accessible to members of the public. The Keeper of the Registers of Scotland has been tasked with completing the registration of all Scotland's land in the Land Register of Scotland by 2024. That process is ongoing, but it is already possible for members of the public, on payment of a modest fee, to access the Land Register and view maps and download other information associated with ownership of those properties already on the Register.
How transparent is landownership?
In another step towards making landownership more transparent, on 1 April 2022, the Register of Persons Holding a Controlled Interest in Land (RCIL) will become operational. From that date those who have significant influence or control over the owner or tenant (for more than 20 years) of land and property in Scotland will be obliged to register their interest. This is likely to include overseas legal entities, partnerships, trusts and unincorporated bodies and persons who own or tenant land on their behalf. This Register will likely prove a useful tool to local authorities and members of the public in general wishing to trace the owners of vacant and derelict land and will make landowners both in the public and private sector more accountable for how their land is used.
It is clear that the problems surrounding the eradication of sites of vacant and derelict land in Scotland are complex and will not be resolved overnight. However there is significant public appetite to see this problem addressed and with the growing number of calls for reform in this area from many different sectors in society, landowners would be wise to take steps now to identify buildings and sites that they no longer need or will need in the future and put in place plans to avoid these sites falling in to disuse.
Should you have any questions or queries please do get in touch with Catherine Macdonald, rural land and business legal expert.
You might also be interested in these articles: