Insights | Rural
Route Map for Agricultural Reform
2 March 2023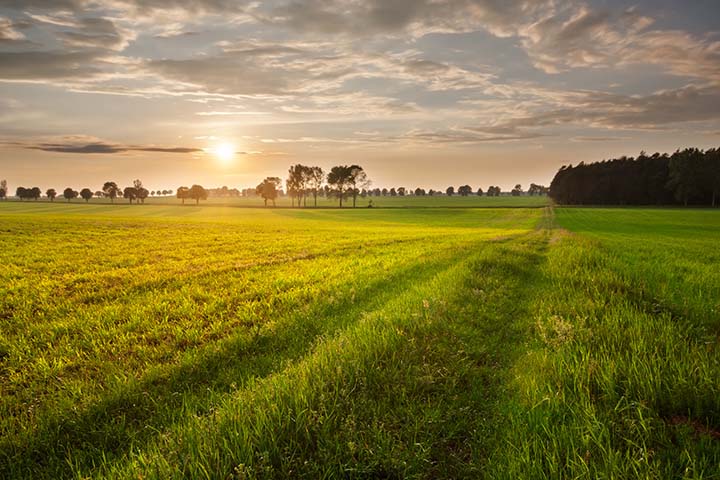 Cabinet Secretary, Mairi Gougeon announced a route map for agricultural reform at the NFU Scotland AGM on 10 February 2023. Last year the Scottish Government announced its "Vision for Agriculture". It is a support framework to enable high quality food production, climate mitigation and adaption and nature restoration. Consultation on the Agriculture (Scotland) Bill has taken place and it is anticipated that the Bill will be introduced to the Scottish Parliament later this year.
The objective of the route map is to assist rural businesses to plan and prepare for change and give some clarity on future support mechanisms available to them.
Agriculture Support beyond 2025
From 2025 at least half of all funding for agriculture will be targeted towards outcomes for biodiversity gain and a drive towards low carbon approaches to improve the resilience, efficiency and profitability of the sector. Support payments will comprise four tiers.
Tier 1 base payment – to support active farming conditional on essential standards to ensure climate response, biodiversity and business efficiency outcomes and completion of a whole farm plan
Tier 2 enhanced – to provide further support to businesses that are effective in reducing greenhouse gas emissions, restoring and improving nature and adopting regenerative farming practices
Tier 3 elective – to provide targeted support to facilitate nature restoration, innovation and supply chain improvement
Tier 4 complementary – to provide complementary funding to undertake continuous professional development to enhance skills and provide advice relative to new practices and innovation
Transition  
Introduction of the new support mechanisms will be phased. The existing framework of support will continue in 2023 and 2024. Conditionality will be introduced to the present Basic Payment Scheme (BPS) from 2025.
Tier 2 enhanced support will launch in 2026 followed by Tier 3 elective and Tier 4 complementary support from 2027.
A timetable outlining key dates for provision of further information and guidance between 2023 and 2025 has been created and will be developed as decisions on future policy are reached.
Preparing for change
In February 2023 the Scottish Government released guidance on the list of measures being considered and appraisals required to claim future agriculture support. It's not a final list of measures but it is designed to be indicative.
Preparing for Sustainable Farming (PSF) support is available until the end of 2024 to help businesses prepare with support for conducting carbon audits and soil sampling, animal health and welfare activities and access to herd data for suckler beef producers through MyHerdStats.
This commentary is a summary on a detailed and emerging topic. Fuller information is available on the Scottish Government Rural Payments and Services website: https://www.ruralpayments.org/topics/agricultural-reform-programme/arp-route-map/
Provision of a timeline and an indicative list of activities which are likely to attract support in the new system is welcome. However, significant detail requires to be added to the available framework and early clarity will assist land based businesses plan for the future.
At Anderson Strathern we have experience of supporting clients and professional intermediaries in connection with previous reform of support payment frameworks and adoption of innovative practices. We will continue to monitor developments towards creation and finalisation of the new support system. If you have any questions please do not hesitate to get in touch with John Mitchell or your usual contact at Anderson Strathern.
You may also be interested in the following articles: