Insights | Commercial Property
Buy less, buy better – global business building in the age of sustainability
17 August 2022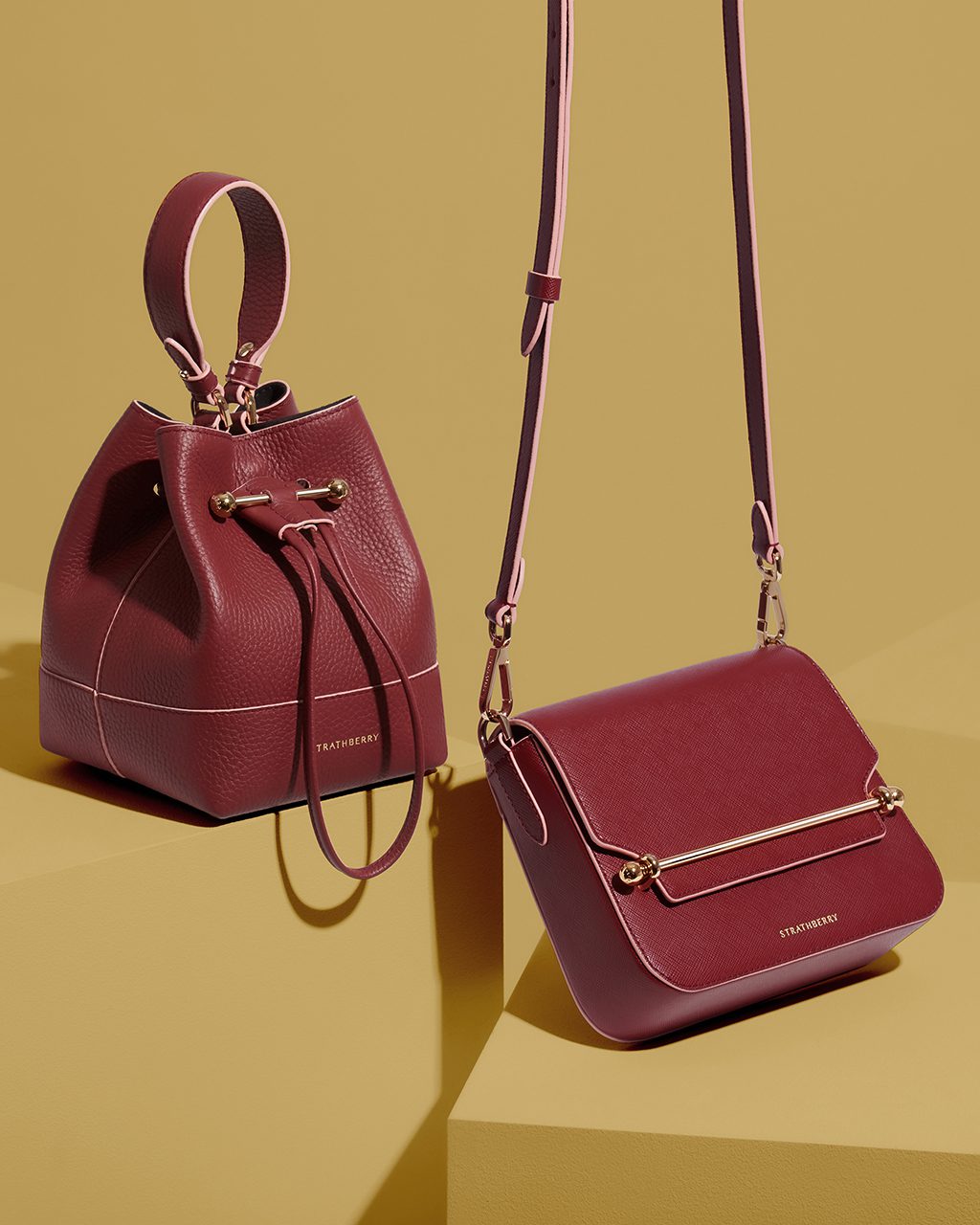 In a world of fast fashion, how important is a brand's culture and sustainable business practices? We spoke to Guy and Leeanne Hundleby, founders of the luxury leather goods brand Strathberry about their journey to date and their aspirations for the future.
Tell us a bit about Strathberry such as how you got started, your inspirations for designs and your culture.
The inspiration for Strathberry first came to us during our travels through Spain with our children. When we later moved out to Spain, we connected with an amazing network of talented local craftspeople there and, once we were back living in the UK, we came up with the idea of establishing a Scottish contemporary brand with an international outlook.
Quality and craftsmanship are at the very core of the Strathberry brand, and all of our products are beautifully handcrafted in Spain where the knowledge and quality of leather work is second to none. As neither of us came from a traditional design background, we have learned along the way, experimenting with different shapes and making paper models of what would become our first Strathberry silhouettes. Each of our designs features our signature metal bar – an element which makes all of our handbags instantly recognisable as a Strathberry piece, with a minimalist aesthetic that is both contemporary and timeless.
How have you managed to grow awareness of the brand since founding Strathberry in 2013?
It's been an exciting journey and we're incredibly proud of what we've been able to achieve since founding Strathberry in 2013. We've been thrilled to see support for the brand growing internationally over the years and we're grateful in particular for the amazing support from HRH The Duchess of Cambridge, HRH The Duchess of Sussex, Lady Gaga, Margot Robbie and Rita Ora (to name a few) who have embraced the Strathberry brand.
Their endorsement has been pivotal in raising global awareness for the brand and we now have an ever expanding international wholesale stocklist covering the US, Australia, Asia and beyond. We're hoping to be able to continue to build on this by expanding our retail footprint outside of the UK in the near future. We're excited for what's to come as we work to consolidate our position in the market as the go-to brand for luxury contemporary accessories which are designed to last.
How did you find trading during the pandemic?
The pandemic was a testing experience for most and, like everyone else, we had to quickly adapt to a new way of living and working from home. The retail sector was particularly impacted during the pandemic and we had to close our boutiques in line with the national guidance. We also faced challenges relating to stock shortages and distribution, but we were luckily able to overcome these issues relatively quickly in order to start work on producing our new collection and start shipping globally again. This was crucial for us given that the majority of Strathberry's sales are online.
Despite the challenging and uncertain times of the pandemic, we were delighted to be able to open three more boutiques in 2020 and 2021, two in London (Chelsea and Covent Garden) and one in Edinburgh, our hometown. It took a little bit of time for footfall to pick up again as the restrictions started to relax, first from local customers and then from tourists visiting after the borders reopened, but it's been simply wonderful to be able to welcome our customers back into our boutiques again.
Thankfully covid is becoming less of an issue now and our sales are nearly back at pre-pandemic revenue levels, with lots of ambitious plans for further growth ahead of us.
Have you noticed a consumer behaviour shift since the pandemic began and, if so, how have you adapted as a result? Has this been a positive experience for you?
We've noticed that consumers have become more and more conscious in their approach to shopping and are increasingly interested in learning more about brands' products, materials and business practices.  In particular, we've noticed that consumers are eager to know how committed a brand is to minimising its environmental impact before making a purchase. We're hearing "buy less, buy better" more and more, and this sentiment seems to have increased since the pandemic began as customers look to invest in products that are designed to last rather than purchasing seasonal fashion pieces which are often quickly discarded.
We've always been very proud of our handbags and have celebrated their Spanish craftsmanship. The recent shift in consumer attitudes aligns with our values, interest in sustainability, and commitment to the environment. It has also definitely given us the motivation to go the extra mile and be transparent with our customers about our environmental impact as we continue to progressively review our sustainability practices to help us improve as a business.
Strathberry has several boutiques in Edinburgh and in London. How important do you think it is for retailers to retain physical stores, as online sales continue to increase?
As a luxury brand that focuses on craftsmanship, physical stores are incredibly important for the success of our business as they enable our customers to see the quality and beauty of our products first-hand. Physical stores are also a means of enhancing the overall customer experience. In-store exclusive events, launches and bespoke experiences all help to build a strong sense of community with our customers, and make them feel valued.
Have you noticed an increase in footfall at your Multrees Walk boutique since the new St. James Quarter opened?
It's been exciting to see so much recent development in the East End of Edinburgh which has really brought this side of the city to life. It's also definitely helped to raise awareness of our brand with much more footfall coming through Multrees Walk and into our boutique. As we've just launched with John Lewis in the UK, a curated selection of Strathberry styles are also now available in their Edinburgh store and so it's great to see Strathberry in the St. James Quarter and have an increased presence in our hometown. With the return of the Edinburgh Fringe Festival this year, we're also expecting to have a busy rest of the summer!
What are Strathberry's plans for the future?
We have a lot of exciting plans in the pipeline and ambitions to further grow the brand. In particular, we're looking to increase our retail footprint both in the UK and overseas.
We also have plans to further develop our online business and our website is now available in a number of different languages to connect with our growing international customer base. In particular, we're investing a lot of time and effort into growing our key markets in the UK and the US. The US is a particularly important market for us as it currently accounts for 42% of Strathberry's annual sales and this percentage is continuing to increase.
Finally, we're also committed to continuing with all of the sustainability work we've done to date.  By experimenting with new materials and encouraging eco-friendly initiatives, we're hopeful that we can make Strathberry as sustainable a business as possible.
If you have any questions relating to your own retail business, no matter what stage you're at, we're here to help. Our commercial retail team can help with your business premises, distribution and IT/IP contracts and funding arrangements as you plan for the next stage. Get in touch with Fiona McKinnon or your usual Anderson Strathern contact for more details.