Insights | Commercial Property
The diversification of drive-throughs within the UK
15 March 2023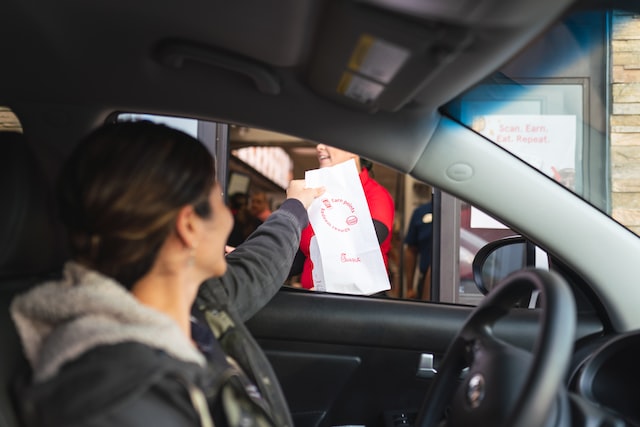 Although drive-throughs have been around in the UK for some time now,  we have seen a notable expansion in terms of the companies operating these in recent years. McDonalds were the first operator to adopt the US model when they opened the UK's first drive-through in 1986. Today, there are over 2,000 of these across the country, as companies look to address customers' desire for immediacy. While drive-throughs have traditionally been associated with fast food outlets, several up-market chains are now looking to shake up their operations and are opting to open drive-through outlets instead of traditional high street units.
The number of drive-throughs in our towns and cities has risen dramatically of late, increasing by 41% between 2015 and 2020. Drive-throughs also became even more popular during the COVID-19 pandemic, when they generated an overall annual revenue exceeding £3billion, according to studies by NPD Group. Social distancing requirements and sit-in restaurants being forced to close forced customers and businesses to change their habits, and drive-throughs were seen as a safer way to collect food on a contact-free basis. These also offered an excellent lifeline to cash-strapped businesses both during and post-pandemic, as operators only require a skeletal staff, with there being less cleaning requirements than the traditional sit-in model.
Brand variety
Recently, several high street brands, ranging from Costa and Starbucks to Greggs and Krispy Kreme, have opened drive-throughs in a bid to expand their reach beyond the high street, where footfall is in decline.
Recent reports suggest that we may see even greater diversity in future. The "healthy fast-food chain" Leon, fast-food start up @pizza and the premium burger chain Five Guys have already committed to the drive-through revolution, and the street food chain Chaiiwala opened a drive-through outlet in Bolton in 2022 with US fried chicken operator Popeyes aiming to launch UK sites later this year. Smaller businesses such as Baynes Family Bakers and Meatless Farm, ( a plant-based burger and sausage maker from Leeds) have also added drive-through outlets to their portfolios in a bid to keep up with rivals.  Dominic Allport, insights director (foodservice) at The NPD Group, said "As we face a new way of living, with perhaps more time in our cars and a greater reliance on online and digital ordering, it makes sense for operators to invest in drive-thru, and we expect to see it expand beyond coffee and burgers to pizza, Indian, vegan and other cuisines."
This increase in demand has however led to supply issues in terms of locations. Retail parks are seen by many as an ideal location for a drive-through, but the supply of suitable locations is finite. This has led to an increase in competition for such locations, which will ultimately drive up rents. Clearly, this favours larger chains and may increase the gap between such companies and their competitors, who may be more reluctant to agree to sign up to a long-term commitment where rents are inflated. Fit out costs are also higher with drive-throughs compared to traditional units, particularly amidst ongoing supply issues, so there is a risk that smaller businesses may simply be priced out by their larger competitors.
Environmental concerns
The drive-through model has also drawn criticism from environmental campaigners. Their use requires excessive vehicle idling which increases fuel consumption and can potentially damage car engines and exhausts. The long queues we often see at drive-throughs can therefore lead to a general deterioration in the air quality in the area surrounding outlets.
In 2022, co-leader of the Scottish Greens Patrick Harvie MSP and other Green councillors called for a ban on new drive-throughs after 400 people backed a petition stating that such bold action is needed due to tackle climate change. Green councillors highlighted that Glasgow has more drive-throughs than Edinburgh, Aberdeen and Dundee combined, which they claim leads to dangerously high emissions within the city. Despite the recent diversification in terms of brands offering the service, it was also argued that drive-throughs generally promote an unhealthy lifestyle.
A report by Glasgow City Council officers promised to address the issue in a new city development plan, which may take at least two years to be implemented. Environmental campaigners claim that action is needed before then, given that dozens more drive-throughs are likely to be opened within this two-year window.
Despite these criticisms, it is clear from the meteoric rise in drive-throughs in recent years that the concept is here to stay. In an era where convenience is king, drive-throughs offer a perfect solution to customers seeking a quick fix with minimal disruption to their daily routine. These also provide businesses with the option to move away from the high street and diversify their offerings to customers. The fact that several upmarket chains are now taking the plunge demonstrates an overall sentiment that drive-throughs are a worthwhile long-term investment for businesses. It therefore appears that this is a trend which is unlikely to slow down any time soon.
For further information on how we can assist, please contact Rory Knox.