Partner appointments and promotions follow strong year at Anderson Strathern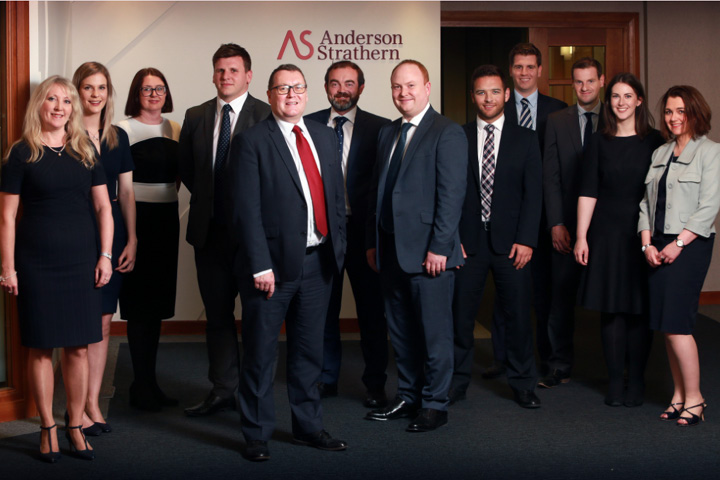 Anderson Strathern has made a new partner appointment to its robust commercial litigation team together with a raft of senior promotions and trainee retentions, following a strong year of growth so far in 2018.
Gillian Jamieson, who becomes partner, joined us in 2016 and has been one of the primary movers in the rapid growth of our busy commercial litigation Glasgow team. The expansion of that team from one partner and one solicitor to two partners, four solicitors, three paralegals and a trainee in just two years, mirrors the overall growth in our Glasgow operations.
Gillian said of her appointment:
"It's been fantastic to be part of this amazing growth in business, especially as Anderson Strathern's progressive ethos has given me the kind of opportunity for career advancement after a ten-year break to bring up a young family that is perhaps unique in the profession."
Other promotions announced are:
Senior Associates: David Coutts (Family Law), Karen Craig (Rural Land & Business), Aileen Entwistle (Private Client), Scott Flannigan (Dispute Resolution) and Natalie McCartney (Dispute Resolution)
Associates: Mandy Armstrong (Employment & Pensions Unit), Robin Turnbull (Employment & Pensions Unit), Sarah Thurston (Private Client) and Jane Pendry (Commercial Real Estate)
Senior Solicitors: Laura Bowen (Dispute Resolution), Ross Cameron (Dispute Resolution), Lucy Thornton (Dispute Resolution), Derek Morrow (Commercial Real Estate), Gregory Gardiner (Commercial Real Estate) and Laura Murray (Private Client)
We have also retained six trainees across the corporate, dispute resolution, employment, private client and rural land & business departments
Chair, Bruce Farquhar, said:
"The promotion of Gillian together with our solicitor promotions announced for the start of our new financial year is a testament to their role in the firm's growth. As a progressive, independent Scottish law firm with a 250 year heritage and a full service focus, we have shaped a forward-looking, innovative approach which puts a real onus on equality and diversity to ensure all of our talented solicitors have the opportunity to advance their careers."
Managing partner Murray McCall said:
"First indications from our newly ended financial year are showing a continuing pattern of growth and the way in which Gillian Jamieson has helped to transform our commercial litigation Glasgow team into one of the mostly highly-rated units around and her commitment to excellence has been an inspiration to us all."
The recent appointments set the path for further growth throughout the firm's corporate and commercial sectors with strength in our private client services.