Insights | Family Law
When a key comes before (or after) a ring
11 February 2021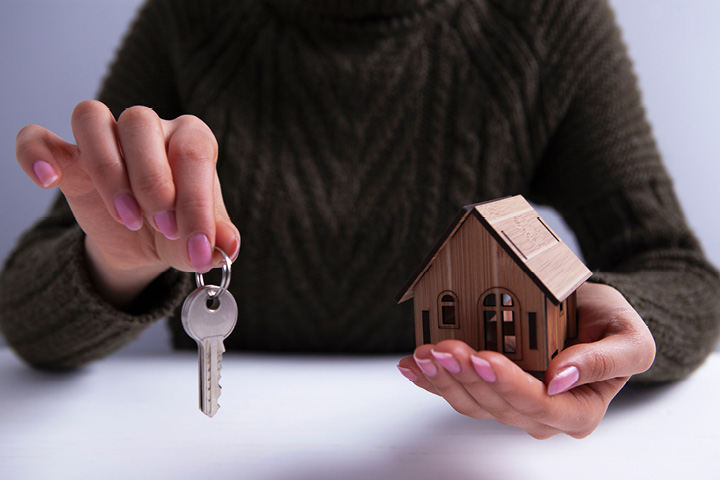 For many couples, a key is likely to come before a ring, although it's true to say that there may be more rings and proposals with the key romantic date of the year coming in February. Whether you're living together, planning to live together or getting married, it's important to seek expert legal advice to make sure you're as well prepared and well informed as you can be for the different life events that might arise.
Recent research shows some interesting trends:
Seventy five per cent of millennials now believe that living together (cohabitation) before marriage (or civil partnership) is a good thing.
Only ten per cent say they are immediately comfortable with sharing financial information with their partner, compared to one-third of over-55s.
Twenty per cent say they are in a financially incompatible relationship, with almost one in five of those wishing they had discussed finances earlier in a relationship.
Planning a life together with a partner is a big event and moving in together should be a reason to celebrate, just as an engagement is cause for a party.
Cohabiting
Whether or not you are going on to get married, the majority of couples in Scotland will fall under the definition of 'cohabitants' in the Family Law (Scotland) Act 2006. This sets out what cohabitants can claim if there is a separation or where the relationship ends by the death of one of them.  These claims are limited and may not cover all the person's needs or reflect the wishes of a partner who has died.  Couples may think that because they are living together they automatically have the same rights as married couples, but this is not the case.
Living Together Agreements
For couples considering cohabitation, a living together agreement might also be useful to set out who gets what, including repaying any family loans, which avoids the stress and cost of a disputed claim at the end of the relationship. Cohabitation agreements are advisable where parties wish to contract, so far as possible, out of the 2006 Act or wish to control the level of any claims made.
Living together agreements, and cohabitation agreements, are agreed contracts which can include a record of what you own, how you will manage your finances throughout the relationship and how you will deal with various matters in the event of separation. The agreement will encourage you to think about the best way for you to organise your finances and commitments at an early stage. If the relationship were to end, the agreement will seek to ensure that both of you can move on amicably and in the best financial position for you and your family.
Living together agreements are specific to the individual circumstances of a couple and can include as much or as little as they wish. At its simplest, the agreement can state that neither partner will make a claim in the event that the relationship breaks down.
They can also set out who gets what on separation or death of a partner, including repaying any debts or family loans. This avoids the stress and cost of a disputed claim at the end of the relationship. It is also advisable that parties have updated wills.
Making an agreement before cohabiting can strengthen a relationship and give both partners a greater sense of security, especially if there are children involved. Discussing attitudes to finances and future financial plans can serve as the backbone to cohabitation, making it much easier to plan your life together. Of course, it is hoped that couples will never have to rely on the terms of their living together arrangement, but when they do, agreeing at the outset something as simple as who gets custody of the dog may avoid painful disagreements later.
Discuss finances together, especially where family money is involved
Nearly a quarter of Scots borrow large amounts of money from their parents and the Bank of Scotland recently uncovered that Scottish siblings have loaned a whopping £161m to their brothers and sisters.
If you're buying a home with your partner, family can be a source of helpful finance. Few families take the trouble to get lawyers to document a loan or gift, but if they did, a lot of trouble could be avoided. This is particularly so upon separation.
Most people in a new relationship would probably not consider visiting a family lawyer. Likewise, purchasing a property is already a costly process with lawyers involved, and the prospect of involving more lawyers may seem unappealing. However, if your family is providing the funding for that purchase, you should consider protecting their investment with a pre-purchase agreement. It is a common misconception that you automatically get back what you put in to a property purchase; however, if you make unequal contributions to the purchase but take title in joint names, that will not be the case without an agreement to this effect in place.
Do I need a prenup?
If you decide to marry, a prenuptial agreement is a good idea, especially as people these days tend to marry later, when they have already built up some wealth. Prenuptial agreements are also popular if either spouse (or both) is looking to protect family money or is entering into their second marriage.
No longer the preserve of Hollywood A-listers, a prenup is now fairly common. It can be a simple ring-fencing exercise of pre-marriage assets and wealth, or it can involve a more complex review of potential inheritance and company restructuring.
What is family law?
Family law used to be known as divorce law. Now family law reaches many more people and lawyers specialising in this can add value and advice at various stages in life. Nowadays, family lawyers are much more than just divorce lawyers, although that remains an important part of what they do.
As well as advising on family or relationship aspects, we will help clients to make or review their will, consider making a power of attorney and generally assess their finances with an adviser to ensure they are well informed and well prepared for the road ahead.
Where a marriage does not last, the family lawyer is on hand to help unravel the family finances, assist in arrangements for the children and will help a client come out of a divorce and move forward having achieved a fair and reasonable outcome.
A family lawyer will be with the client throughout the various stages in their life. When you think about the reach of family law, we can be, and sometimes need to be, beside a client each step of the way. A family lawyer can help guide couples through the potential issues of financial decisions they take and seek to preserve family wealth from potential claims. Where a separation happens, we can advise on the appropriateness of any claim, whether to be made or defended.
Whether you're just starting out, getting engaged or are part of a couple entering marriage or exiting on a divorce, a family lawyer is there to help. While not every relationship lasts, we like to think that with our support and advice the experience will not be as costly and stressful as it could otherwise be. Through life's journey, a family lawyer can help you get to where you want to be.
This article originally appeared in the ICAS Law Review 2018.