Neil's inspired by Dad to Ride Across Britain for Parkinson's UK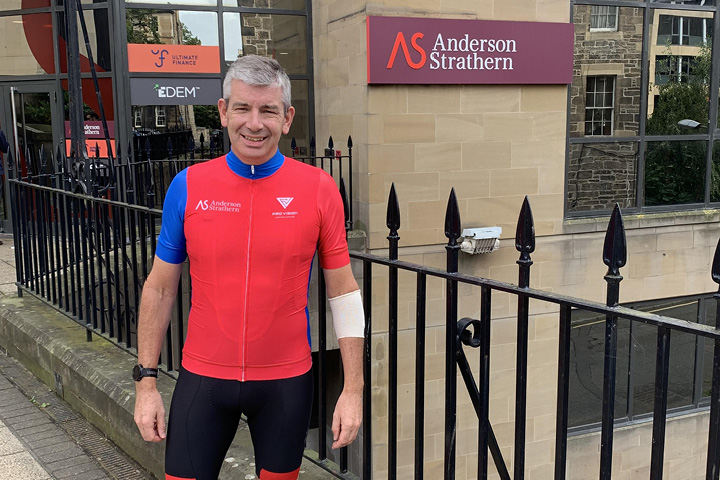 Starting last Friday (7 September), our Director, Neil Amner, began his 980 mile cycle from Land's End to John O'Groats as part of the Ride Across Britain event. Neil's taking part to raise funds for Parkinson's UK because his father, Ian Amner, lives with the condition.
Extra motivation has come from Parkinson's UK being Neil's employer's corporate charity of the year, Neil is a Director at Anderson Strathern LLP, where he specialises in transport and environmental law and is kept busy leading the law firm's Brexit group. Neil is the immediate Past President of Glasgow Chamber of Commerce and also a Director and Board member of Scottish Chambers of Commerce.
Neil said:
"My father has Parkinson's and it has caused him to completely lose his mobility. He was a competitive swimmer and then a swimming coach in his spare time. He also used to cycle, ski and windsurf. When working in the wine and spirits trade he used to travel across the UK and internationally.

"This is the hardest challenge I've done, previously – and when I was a lot younger! – I have completed other endurance challenges such as the Caledonian Challenge and the Three Peaks hill walks and an Iron Man distance triathlon. This will be a real test – even tougher than the earlier challenges.

"Round the World champion cyclist Mark Beaumont spoke at an Anderson Strathern event last autumn. So inspired by Mark's talk, I decided to give this a go – although I know who to blame if it gets too tough ! I've made it even harder by only signing up for the event in June – giving me 10 weeks to get ready rather than the year that people often have to prepare. Although I'm fairly fit, I've never done multiple 100 plus mile cycles back to back. Yes, I'm getting my excuses in early in case I'm lagging behind the other cyclists! Having already received plenty of well wishes and support from my work colleagues also helps keep me motivated."

"The only targets I'm setting are to complete the route and hopefully raise £9,800 – £10 a mile – for a fantastic charity that I know does so much good work for people like my Dad. I'm delighted to have been asked to be a Parkinson's UK ambassador on the Ride Across Britain and I'm looking forward to what promises to be a great adventure in aid of a great cause.
Emma Hall, Regional Fundraiser for Parkinson's UK, said:
"We're thrilled that Neil has made such an amazing commitment to Parkinson's UK. We know he's cramming in training miles whenever he can – up at 5 am each day to cycle 60 miles before work. It's only through the efforts of people like Neil and companies like Anderson Strathern that Parkinson's UK can continue to provide life enhancing local services and fund world-leading research that one day will end Parkinson's. Forever."
Neil's progress and show your support for Neil and Parkinson's UK by visiting www.justgiving.com/Anderson-Strathern-RAB. You can follow the rest of our CSR activity here.