Podcasts | Corporate Law
Health, energy and enterprise in conversation with Dr Marie Macklin CBE
30 April 2020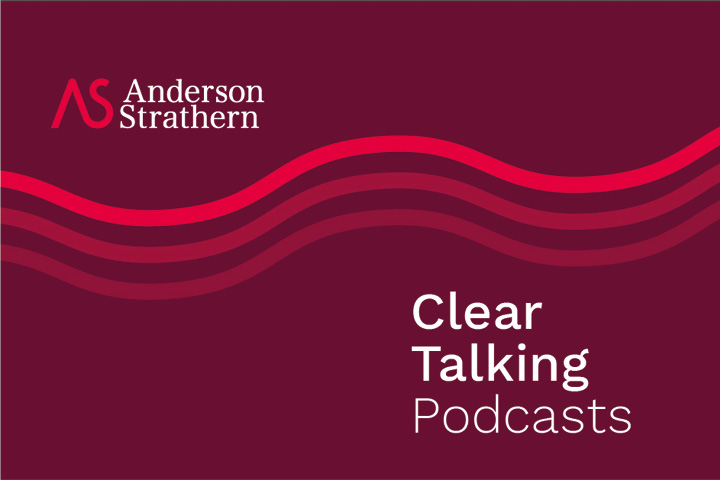 Anderson Strathern has launched its Clear Talking podcast series aimed at helping businesses, individuals and their families navigate the 'new normal' during the current difficult times.
The first guest is the inspiring and enterprising Scottish businesswoman Dr Marie Macklin CBE who is in conversation with the firm's Managing Partner Murray McCall.  Marie is well-known throughout the business community, and more widely, for her work in regeneration, charity and entrepreneurship, including The HALO Urban Regeneration Company and the Lift up Your Hearts campaign.
In episode one Health, Energy and Enterprise Marie talks to Murray McCall about what really matters to her, including the impact of the Coronavirus on the business community and how her work with the Lift up Your Hearts campaign is helping vulnerable people through lockdown. She also discusses the outlook for the Scottish economy and her plans for the urban re-generation project HALO in Kilmarnock.  Marie highlights the possibility of developing an economy with a kinder heart emerging from the current crisis.
Marie commented: "It was great to take part in Anderson Strathern's first podcast and to talk about how we can genuinely make a difference to lives and communities through bringing businesses together. This is something that I am passionate about in this time of need and I know that many others are too. We are not in the 'normal' now and, as we work our way through new ways of living and working and I had the opportunity to discuss with Murray what the 'new normal' might be."
Marie is passionate about how the Scottish business community and the economy will evolve and re-generate through the lockdown and asks our listeners:  "Could we now have the catalyst for creating a new economy with a kinder heart?"
Murray McCall –who, like Marie, hails from Kilmarnock – commented on recording the first of the podcast series with Marie: "It was exciting and interesting to talk to someone as dynamic as Marie and I was delighted that she agreed to be the first guest in our podcast series.  Marie's work across re-generation, business and charity is a fantastic example of what our business community can do in times of need, supporting local communities and businesses through challenging times now and for the longer term.
"We've made our own commitment to this and I'm very pleased to say that Anderson Strathern is to be one of the delivery partners for Marie's HALO project in Scotland."
The HALO projects revitalises vacant land in communities experiencing economic challenges. Falling under the headlines Health, Energy and Enterprise, based in Kilmarnock, it will include education and business joining forces to create employment for all. The project has a strong emphasis on opportunities for our future workforce. The HALO Kilmarnock, a redevelopment of the former Diageo bottling plant, is expected to generate £53m in GDP for Kilmarnock and £65m for Scotland. Marie is also founder and director of HALO Belfast.
The Lift up Your Hearts campaign aims to provide meals and food deliveries for vulnerable people in partnership with Centrestage and Braehead Foods throughout the lockdown, you can support via Twitter @LiftYourHeart20 or Lift up Your Hearts on Facebook #LiftupYourHearts